Mechanical Assembly
The finished product
We can provide you with far more than just a circuit board. We have the capability to provide you with a range of services to help you create a finished product. From box drilling to complete assembly, we have the technology we have the manpower.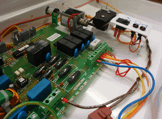 Sub-assemblies
Make your assembly easier and get us to build our electronics into a subassembly that can be easily wired into your machine. It cuts down on a lot of the assembly time and reduces the chances of production faults.
Customisation of boxes
If you want your electronics to be fitted inside an enclosure, we have the equipment to customise boxes to your requirements. Holes for cable glands, switches, indicators or displays: we can give your electronics the feel of a professional product.
Complete Assembly
Lack sufficient manpower to assemble your machines? Don't want the cost or hassle of employing production staff? Send your parts to us and our engineers can build the machine for you.