Design and Development

Starting from scratch
If we don't already have a system available that fits your requirement, we have the facilities to design and develop a system to meet your requirements.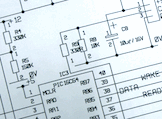 Over the years we have been tasked with creating electronics for a wide variety of purposes in a wide variety of industries. It is this experience that we can provide for your project to create a reliable system that meets your every requirement.
From initial prototype to production board, we will provide advice and support through every step of your development.
Microprocessor Based Designs
For all but our most simple designs we use the latest Microchip PIC microprocessors. These processors provide a cost effective, reliable method of control which gives maximum adaptability whilst often simplifying the physical circuits and thereby reducing costs.
We provide a full software development service for our customers to make sure that your boards operate to your exact requirements.
Full Support
We provide our customers with full support of our designs so that if you discover you need a minor change making to you board sometime in the future, it can be provided with the minimum of fuss.
Complete Systems
Our assistance doesn't just stop at the PCB, we can use our experience to assist with the design of cables, advise on the installation of the electronics and give advise on the purchasing of related parts (coin mechs, motors, dispensers, etc.).
Why not contact us to discuss your ideas.