Cable Assembly
Connecting everything together
Cable assemblies are a small but important part of any machine. Whether it be to supply power to the board or to turn the motors, you need to be sure that they are up to the task. One badly crimped connection can stop your machine working and lead to hours of fault finding on a machine.
We provide cable assembly services that can create cables to any specification you may require. Able to manufacture anything from small simple assemblies to large complex wiring looms, our assembly lines are able to cope with all the major types of crimp and connector. If you are in need of any bespoke cables, contact us with your requirements.
Our workshop is tooled up to handle most of the popular crimps and connectors including Molex, Stocko and JST and all our cables are ROHS compliant.
Automation
Over the years we have equipped our workshop with a number of machines quality, speed and efficiency of assembly, these include automated cable cutting/stripping machines and powered crimping tools.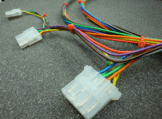 Quality Control
We know how much of a hassle a badly crimped cable can be so all our cables are tested thoroughly before despatch. This includes an electrical test as well as a "strength" test in order to ensure the quality of the crimp. When a cable leaves us, you can be sure of its quality.
Ask for a quote
Contact us to find out what we can do for you. Send us a simple wiring diagram or a sample cable assembly in order for us to quote.